 1st THAI PHARMA MANUFACTURER PIC/S GMP CERTIFIED ALL PRODUCTION LINES
COMPANY PROFILE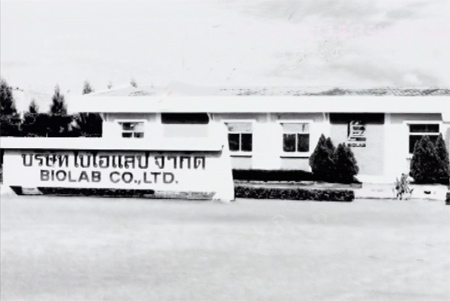 BIOLAB
is a quality-centered pharmaceutical company with its main focus on generic formulation development and contract manufacturing services. With the commitment to fulfil the corporate value of "Your Healthcare Partner.", we strive towards the highest manufacturing standards, including PIC/S GMP, EU GMP and other global standard practices. Our quality policies are implemented to all aspects of activities, including manufacturing process controls, laboratory controls, documentation practices, suitability of resources and supplier management, while balancing the sustainability and effectiveness of operations.
Our key strategy is to become a specialized manufacturer of niche generic products. Currently, the dedicated facilities can support the manufactures of sterile preparations (small volume liquids and powders), lyophilized products and combined hormonal contraceptives. General manufacturing facilities can support a wide variety of pharmaceutical formulations, including tablets, capsules, powder, liquids, ointments and creams.
With respect to the contract manufacturing services, we deliver customized services that respond well to various demands of customers.
Biolab
is entrusted by renowned Thai and international customers, including Germany, Japan, Italy, Malaysia, Singapore, Philippines, and Sri Lanka as a contract manufacturer of their pharmaceutical products. We continue to expand our presence in global markets and are devoted to satisfying customers with our quality products and services.
OUR HISTORY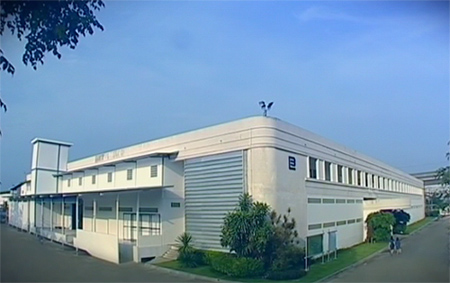 Bio group – We are a circle of endless support under the same credo "Your Healthcare Partner." that drives us to continuously seek new approaches to make progress on reaching our commitment, "To serve society so that all may enjoy a healthier and higher quality of life."
1974 BIOPHARM CHEMICALS CO., LTD. – our first established corporate in the group, as a pharmaceutical marketing distributor, supplying imported pharmaceuticals and supplements to the domestic pharmaceutical market.
1981 BIOLAB CO., LTD. – First step as a very first pharmaceutical manufacturer with a strong commitment to develop and manufacture premium quality medications for ensuring a good well-being of all Thai citizens. As a leader in the manufacturing industries of pharmaceuticals and health care products, who has never stop working to reach the top, we have long been recognized as a legend in our own expertise. Now we are turning our intention to the welfare of people around the world.
BIOLAND & DEVELOPMENT CO., LTD. – a brand new member in our group, concentrates on developing the real estate business. With a great success of its first project, BIO HOUSE, an exclusive mixed design building for retail, office and apartment located on Sukhumvit Soi 39, in the heart of the Bangkok city. "Thank you for a wonderful time at Bio House. It has been a wonderful home." as a comment from one of our tenant could be a sure proof of success on this initial project.
THAKOLSRI FARM – An agricultural farm, being situated in Phetchabun Province, with the planting area of 650 acres, having the yearly capacity of 120 tons with gradually increasing year by year, is well equipped with high agricultural technology like a complete irrigation system, automated greenhouses serving as an eco-friendly system that can fully supply chemical-free, organic crops in a larger and more consistent yield. Initially, our farm mainly supplied high quality fresh fruits to the local and global markets. Currently, the farm has already fulfilled various export contracts with Japan and most EU countries, targeting to cover more countries in the future.
OUR VISION & MISSION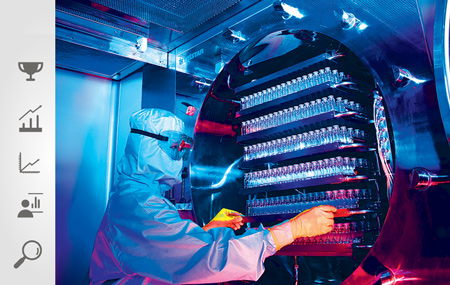 Vision
"To position ourselves as a fully-fledged global pharmaceutical manufacturing hub, with a strong commitment to enhancing the quality of life for people worldwide."
Mission
"Deliver a premium quality range of pharmaceuticals to patients at all levels, through continuous and sustainable developments on our core strategies comprising advanced production technologies, innovative researches, world-class quality assurance practices, as well as highly competent and motivated human capital. At the same time, convey our strengths on a high degree of professional expertise and experience, both at local and international levels, trustworthy partnership, as well as a promising and full flexibility in our services."
OUR SUCCESS STORY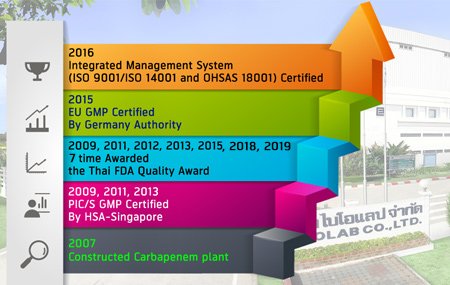 Initially starting from a small-scaled pharmaceutical factory in 1981, BIOLAB is now one of Thailand's leading pharmaceutical manufacturers.
Due to fast-growing demands, we decided to reinvest over $10 million in expanding our production capacity base to 3 times larger than its original scale, 3-storey factory building comprising 24,000 square meters, fully equipped with state-of-the-art facilities, from A to Z, including imported world-class advanced production lines as well as well-equipped R&D and quality control laboratories.
Driven by strong commitment to continually develop both our products and quality systems, we are the first company in ASEAN who has been granted ISO 9001 certification for quality management systems since 1999 and just lately ISO 9001:2008.
We, additionally, are the first and still the one pharmaceutical manufacturer in Thailand who has complied with the PIC/S GMP standards (recognized by HSA Singapore, since 2009), an internationally recognized standard for manufacturers of medicinal products.
Recently, another most honorable award for our excellent work ethics and high standards, we have received "Quality Award" from Thai Food and Drug Administration for two consecutive years, 2009, 2011, 2012, 2013, 2015, 2018, and 2019.
We have built a decade of trust and reputation on our professional services with our customers worldwide, e.g. Japan, Singapore, Malaysia, Philippines, etc. In the near future, we are planning to expand our customer base from Southeast Asia to other countries globally such as Germany, Australia, South Africa, etc.